Subphylum Crustacea - the crustaceans
(crabs, shrimp, etc)
Defining features of the crustaceans:
Underside of a crab, showing mandibles: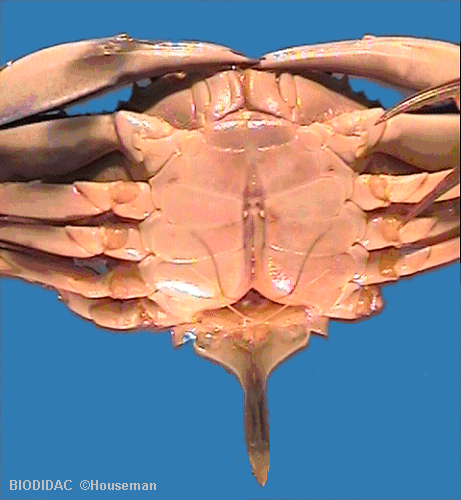 Crustacean lifestyles and habitats:
In other words, this phylum does it all!
---
A bit of crustacean anatomy
Diagram of major organ systems:

Circulatory and respiratory systems: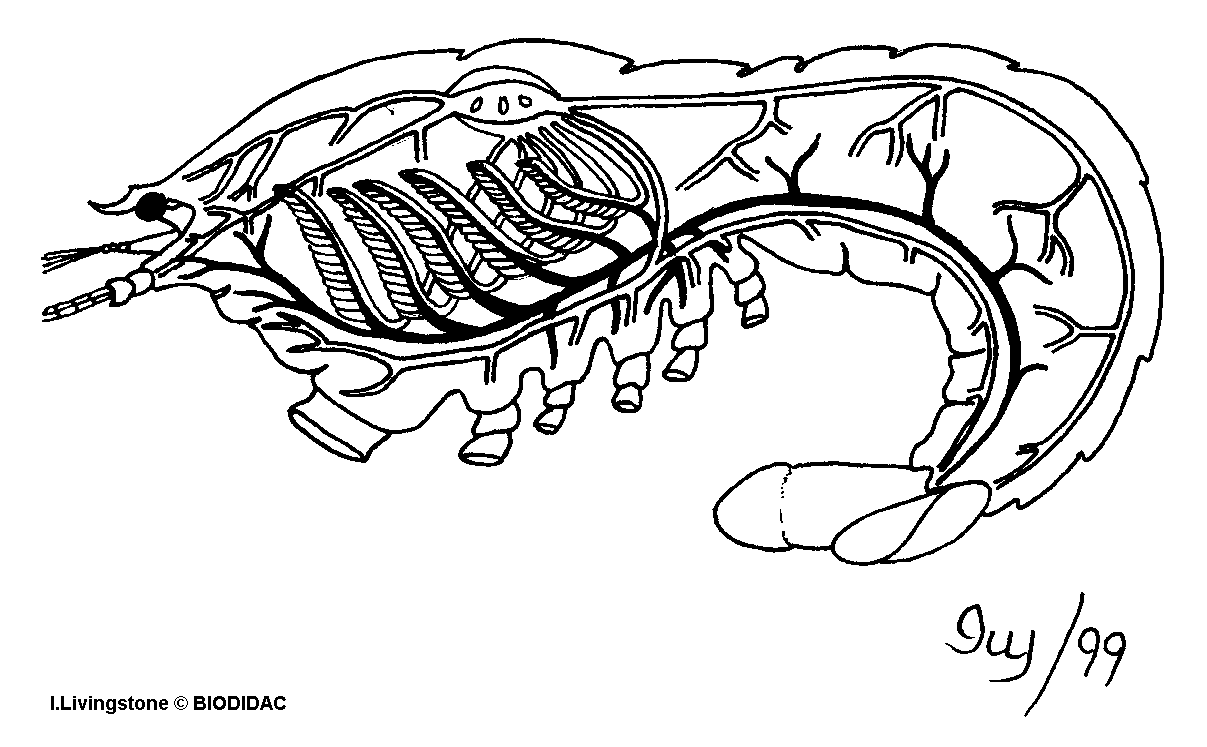 Heart (including small holes called ostia through which "blood" enters heart):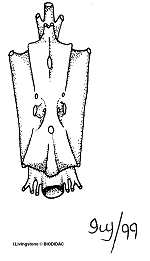 Cross-section of body (e.g. of a crayfish) showing circulatory system (red), digestive system (orange), and gills (lavendar-purple):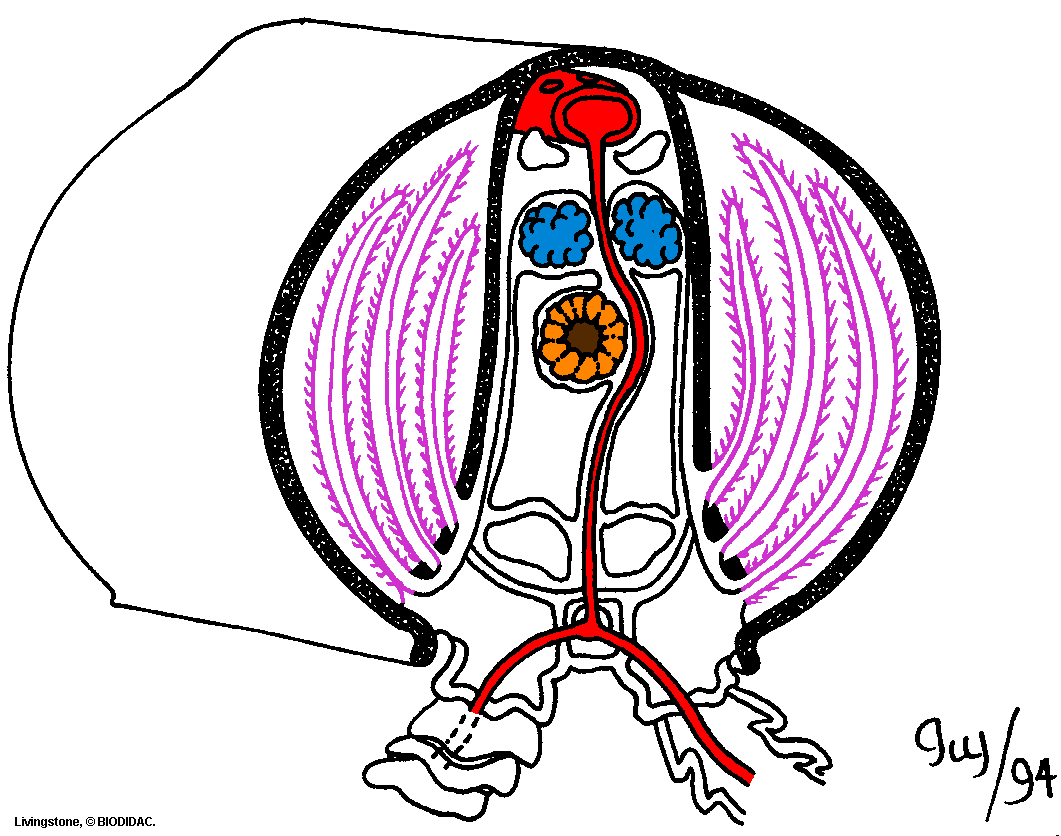 Note: water is moved through gill chamber by modified appendages on each side of head called gill bailers. Water is drawn through openings near lower rear of animal (just in front of tail) on each side of the body, and it exits gill chamber through openings on each side of the lower portion of the head, on either side of the mouth.
Dissected crab (that had been preserved in formaldehyde, with pink latex injected into circulatory system), showing heart (pink thing in center), gills (sort of pink things on left and right), gastric mill (the object below the heart in this photo). Note: the head region of crab is facing bottom of picture.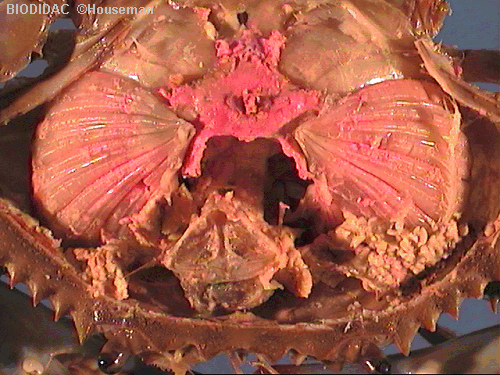 ---
A sampling of some of the major crustacean groups:
Class Branchiopoda - water fleas, brine shrimp, fairy shrimp, etc.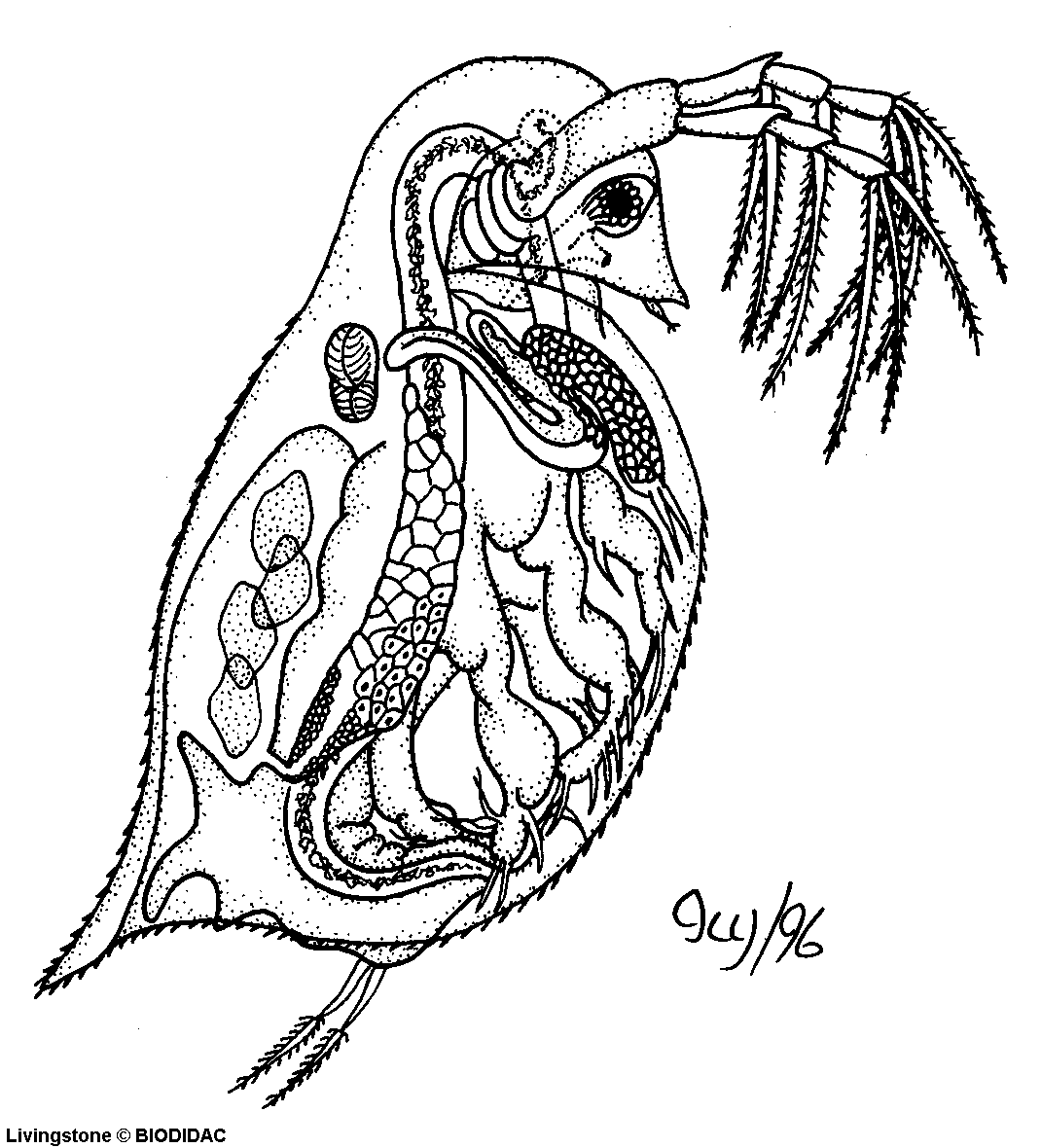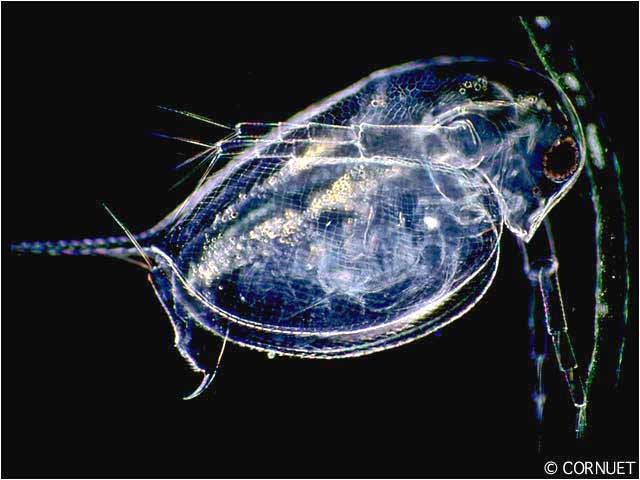 Nice photos of Cladocerans can be found at:
Cladocera web site: http:default.html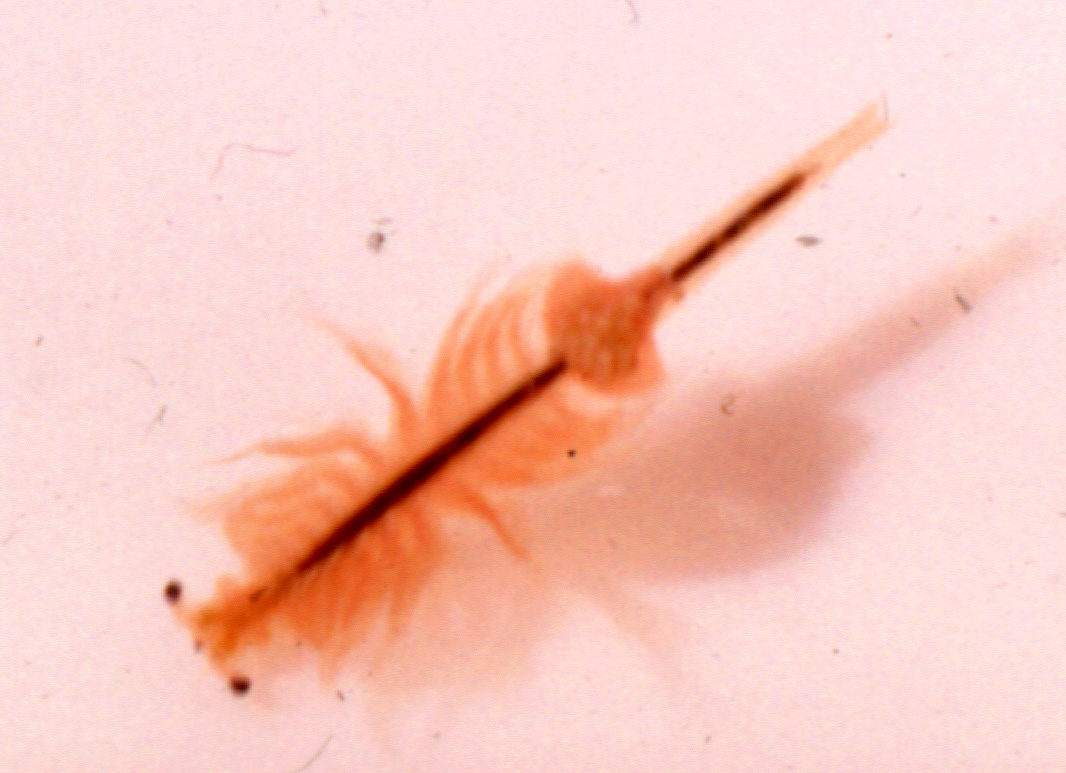 ---
Class Ostracoda - the ostracods, or seed shrimp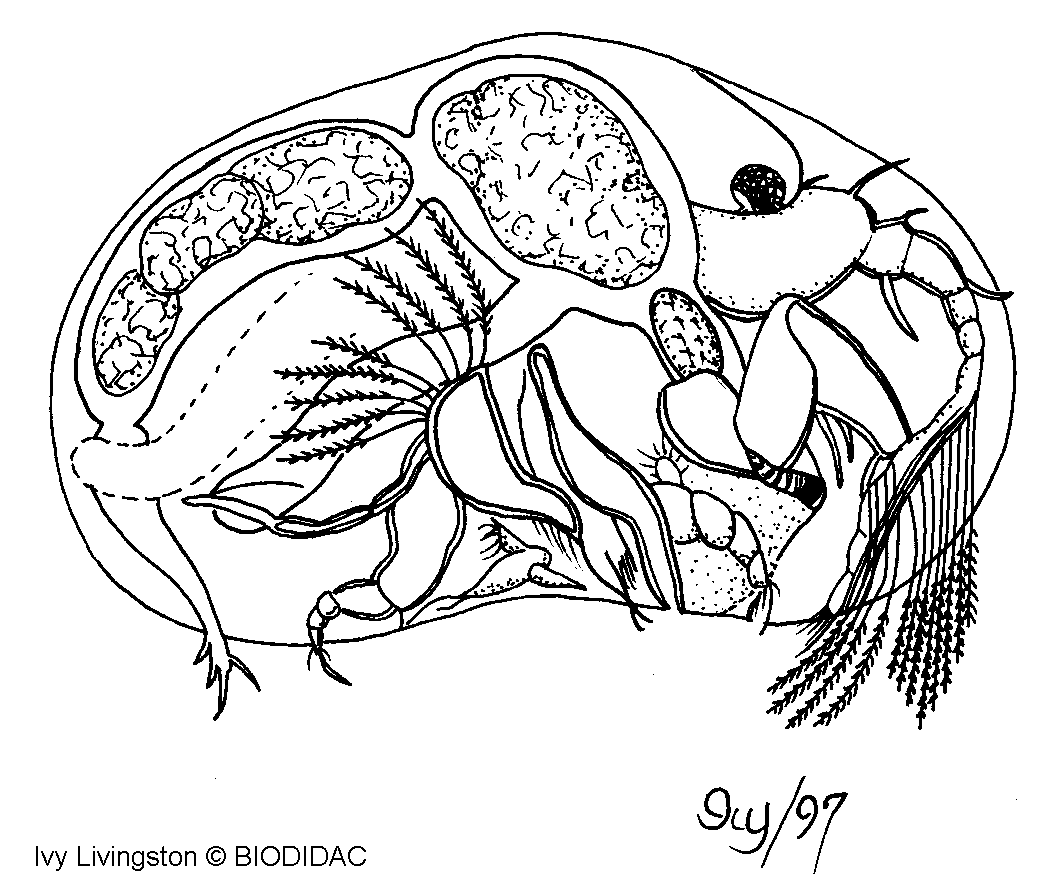 If you are really inspired about ostracods, here is an Australian site with more info: Ostracods: http:ostbiol.html
---
Class Copepoda - the copepods
Copepod showing water flow patterns that aid in food capture: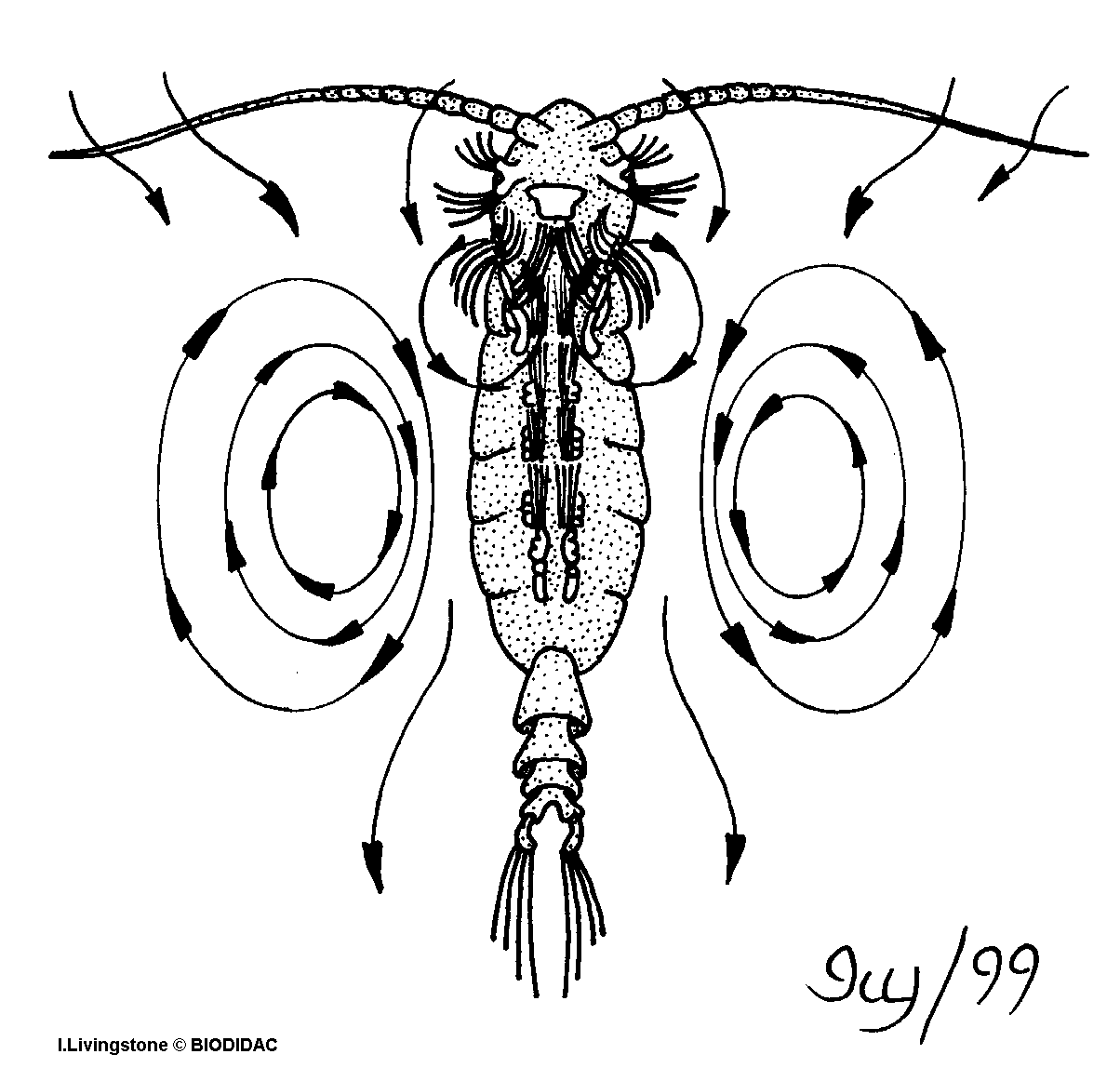 Copepod with paired egg sacs: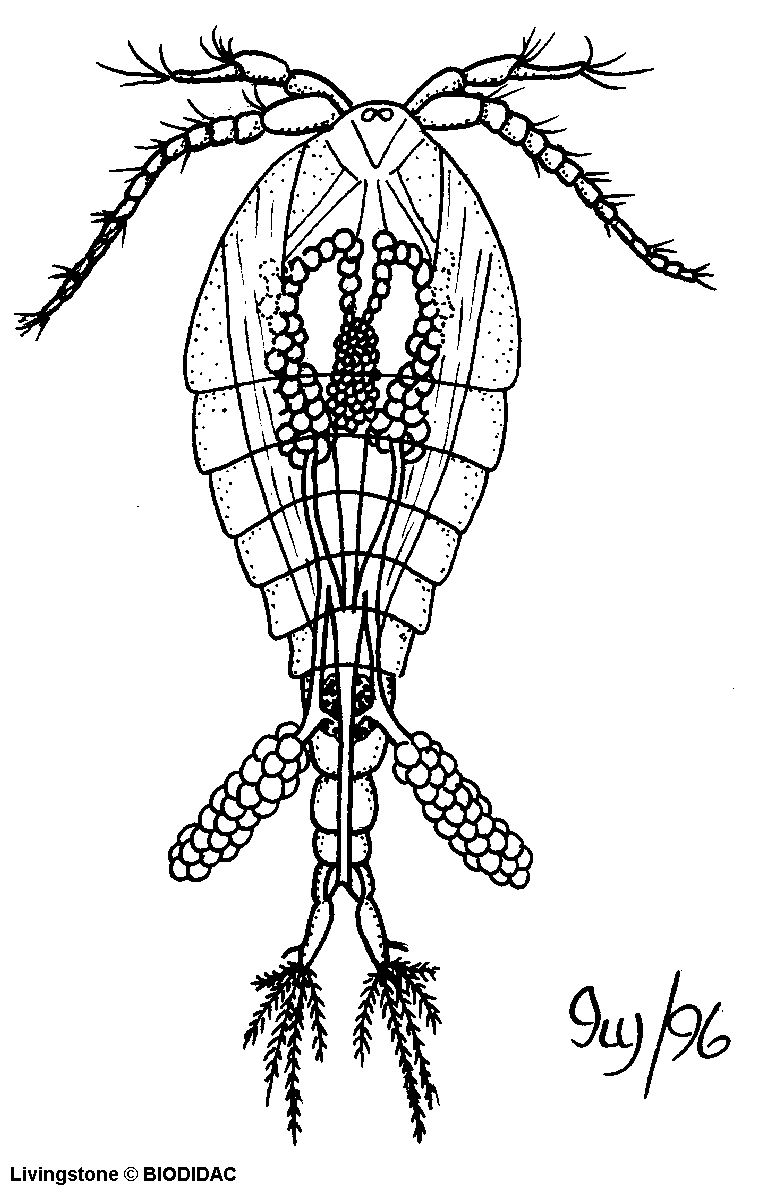 Photos of some freshwater copepods can be found here: Freshwater copepod photos: http:zoop-copep.htm
---
Class Cirripedia - the barnacles
"A shrimp that stands on its head and kicks food into its mouth with its feet"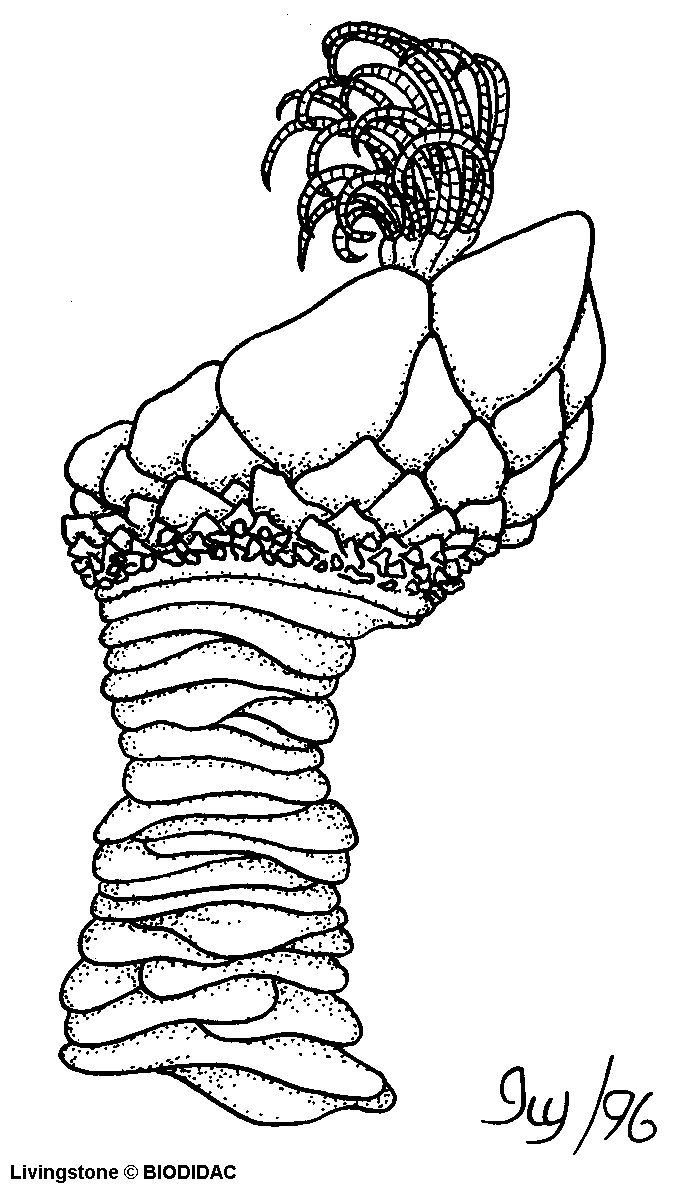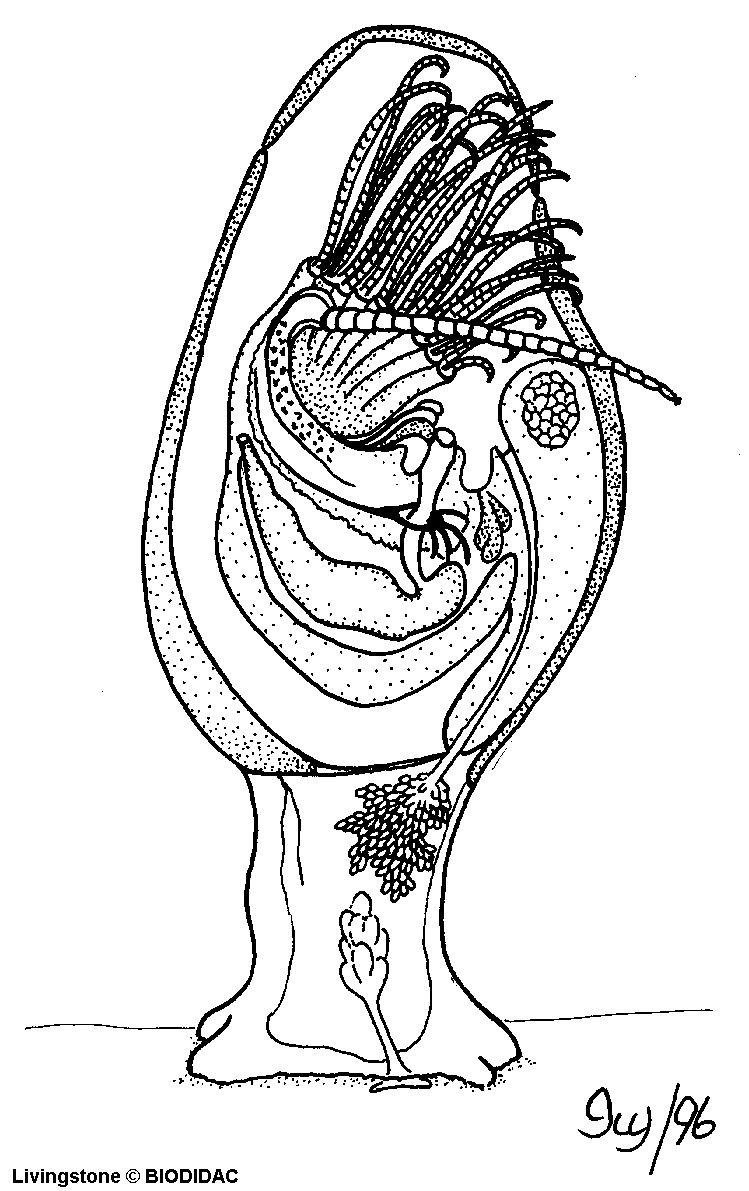 ---
Class Malacostraca - crabs, lobsters, shrimp, and others
Here are a few of the major orders:

Order Decapoda - the decapods

Order Amphipoda - the Amphiods

Order Isopoda - the Isopods

http://www.abc.net.au/science/news/stories/s812802.htm


http://www.whozoo.org/Anlife2001/chelsy/clh_Bathynomus.htm

Are there other orders in this class?

---

A few final crustacean tidbits

(sorry, no shrimp sauce to go with these tasty morsels of knowledge!)

A few amazing crustaceans:

See also: http://www.glf.dfo-mpo.gc.ca/sci-sci/crab-crab/images/ph_bigcrab-e.jpg

---
Click here for Uniramia page-Centipedes, millipedes, and insects