FACULTY - K. Christian McGuire
Improvisation in Music Ensembles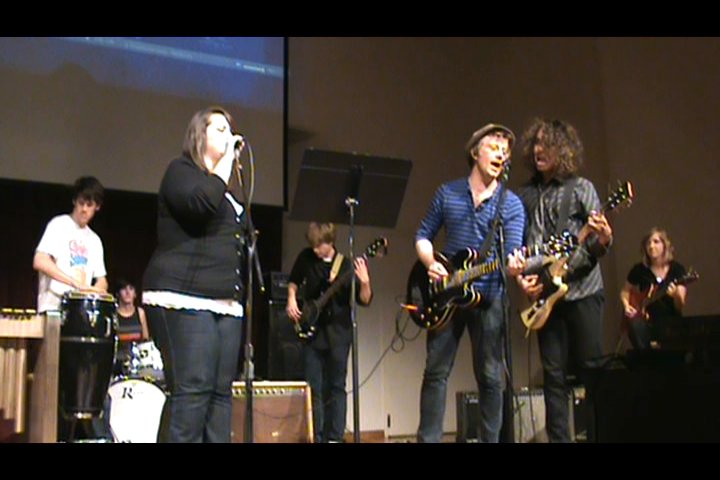 Improvisation in Music (MUE 129) is a contemporary music workshop ensemble course open to all Augsburg College students of any level on any instrument. It is designed to challenge every student with the unique opportunity to find their own creative musical voice within a collaborative environment.
Students attend one workshop per week in which they play and discuss issues regarding performance practice in live and studio settings, improvisational and stylistic techniques, transcriptions, write compositions, stage presence, etc. As students grow in the course, they are exposed to diverse modes of improvisation traditions as practiced by many cultures from around the world. They are encouraged through exercises (and an attitude of fearlessness) to experiment based upon what they have learned.
The repertoire is open, varied and designed to expose students to a wide range of past and contemporary musical styles: Rock, Folk, Jazz, Country, Latin, African, Classical, Trance, Jam-band, Motown/Stax style horn bands, Indian, Fusion, Dixieland, Arabic Maqamat, and many more! With this approach students build a musical library of the mind from which they can draw when playing with others. As a music course at a Liberal Arts college, it is intended that the students will be able to apply the transferable methods of collaboration used here to other fields so that they may comfortably discuss a diversity of perspectives and provide mature constructive feedback.

Visit our Youtube Channel to watch past performances http://www.youtube.com/user/mue129
Or find us on Facebook Improv in Music Augsburg College
================================================
Auggie Garage Band Recording Initiative [A.G.B.R.I]- Augsburg supports every musician, band, ensemble, film maker, artist, theatre etc. on campus to join the MUE 129 program. This exciting program allows musicians of ALL genres to get together jam and record with helpful feedback.:
Spontaneous Jams occuring around campus every week
Live Recording in Sateren and Christiansen
Chapel service performance
Making a Video, Scoring Films,
Analog techniques and Sound Reinforcement practicum
===============================================
In teaching Music as one of the traditional Seven Liberal Arts, I help students overcome the peril of "functional fixedness" through active and peer learning strategies. Rather than focusing solely on the memorization of facts and terms, my students (whether in class, ensemble or private study) use their senses to experience music--applying those terms to their subjective tastes as well as objective critical analysis in order to arrive at a well-considered conclusion.
Students also develop the necessary skill of collaboration by discussing their diversity of perspectives and providing mature constructive feedback. In music improvisation, I expose students to diverse modes of improv traditions as practiced by many cultures around the world and encourage them through exercises (and an attitude of fearlessness) to experiment based upon what they have learned.

For more information: http://www.christianmcguire.com